Grand Opening of 2G TOKYO on November 22nd at Shibuya PARCO.
Store entry and sales terms.
For above items and all the items at the store, the lottery for entry of the store will be held on WEB in order to prevent a disturbance. The item will be available from November 22nd at the grand opening of the store.
※We will ask your official photo ID when enter the store.
__Please note that if the information you registered for the lottery is different with your ID, we will refuse to enter the store.
【TERM FOR APPLICATION】
November 16th (Sat) 0:00AM to November 19th (Tue) 11:59PM

※While the application form is open, you might have troubles connecting to the Web site due to the influx of access. Please try again some time later.
※Do not click the entry button more than once. It might cause you a problem submitting the entry.
※Due to the influx of access, it might take time sending out the confirmation e-mail for your registration.
【IMPORTANT NOTICE FOR APPLY】
・Please apply only if you are available on 22nd, Nov.
・Apply lottery on the WEB only. We do not accept application by phone calls or at the store.
・The winners (only) can enter 2G TOKYO store.
・Please choose your desired visiting time and apply from the timetable form below.
・You are allowed to pick only one spot. You cannot choose more than one spot.
・Please type in your name, address (in Japan), contact information and e-mail address accurately for a prompt contact to the winners.
・An application will be invalid if your name, address, contact information and e-mail address is duplicated or apply a multiple time zones.
・Application is allowed only once per customer(family).
__Please apply one person per address.
__An application will be invalid if your name, address, contact information and e-mail address is used redundantly.
・We do not accept changing your information such as the name or address after the application is registered.
・Application is only effective to the customer him/herself who registered.
・Application from deputy will be considered invalid.
※The notification email might be recognized as "junk mail" by the setting of your email software or an anti-virus software. Please check the settings of the software as well as the "Junk email folder". For the cell phone, please contact with your mobile phone company. Please set it for receiving the following domain.
@2gtokyo.com
【Important notice after the registration】
・Lottery results will be informed by email (to the winners only) on November 21th (Thu).
※If you did not win the lottery, you will not receive any message.
※Even if you win the entry lottery, it does not promise you purchasing any items. There will be the possibility that your desired items might be sold out by the time you enter.
・The winners will be informed by e-mail on details and instruction on the day.
・Please show up to the informed place 5 mins before the scheduled time.
Staff will tell you where to line up there.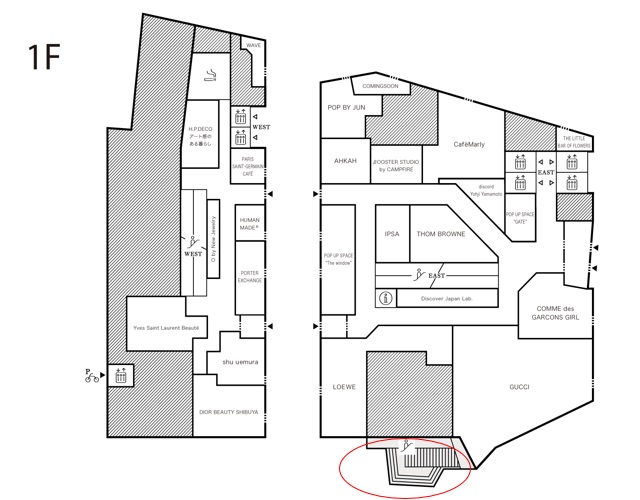 ・If you did not show up on the scheduled time you chose, the winning rights will be invalid.
・Visiting time cannot be changed after the result is announced.
・Bring your Photo ID and proof of winning. (email or a printed page winning notification email.)
・We will ask you a photo ID. (Revoked if your identity could not be confirmed.)
・Following Photo ID will be eligible; Driver's license, passport, residence card, my number card, or Physical disability certificate.
Student ID card and Juki card are not valid.
If you bring your My number card for the ID, we might check your number itself to be sure.
Forgery of Identification is prohibited by the law. If we find any kind of forgery or fake ID, we will report to the Police.
・Expired ID card or a copy will not be accepted.
・Entering the store is only allowed to him/herself who registered on the lottery. To be fair, a deputy cannot enter the store or make payment at any circumstances.
・To avoid the troubles with other customers or other stores in the building, please do not stay in front of the store.
・If we see any conduct of exchanging money or goods, and other unreasonable action at neither inside or outside of the store, we might refuse to sell our items.
・This lottery is nothing to promise the purchase of your desired items. All the items are limited. They might be sold out depending on the timing you are visiting the store.
・There might have a line or takes time to get into the store at any unexpected circumstances.
※All the items are only purchased one piece per item.
※All the items are sold final.
※The customer is allowed to check out only one time. We do not accept reentrance to the store.
※We do not hold any goods by phone call.
※We do not respond to any inquiries regarding the sales volume of the product.
※If not following instructions given by store staff, winning rights would be void.
※Please note that we do not answer any inquiries about lottery results.
※Eligible items may subject to change.
※This lottery form is only for 2G TOKYO POGGY'S SHOP. If you have any inquiries for 2G MEDICOM TOY, please contact below.
http://www.medicomtoy.tv/blog/
※Please do not attempt to buy out the goods from other customers around the area of Shibuya PARCO.
※On the date of grand opening, 22nd Nov., we do not take any inquiries by phone call.
Contact/2G TOKYO
TEL 03-6455-3003 hours 10am – 9pm
Thank you for your understanding. GOOD LUCK!